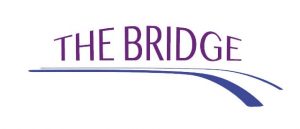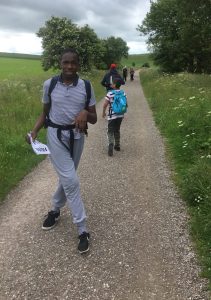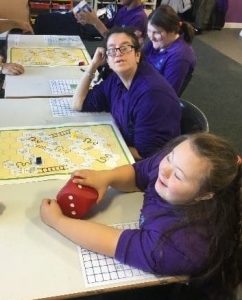 Post 16 Curriculum
The school offers Post 16 provision on the main Talbot site. We also have a separate provision, called The Bridge, in a self-contained building within the school site, which is attended by 25 students.
The main priorities at both sites is to deliver a curriculum called "Preparation for Adulthood" which focusses strongly on the development of communication, social and independence skills.
Intent
The Post 16 curriculum offer is designed to be flexible, age appropriate and meet the needs and interests of a diverse group of learners. The Post 16 curriculum aims to broaden students learning and is designed to help prepare students for adulthood and for life beyond school. There is a strong emphasis to support students to be as independent as possible and this is promoted throughout. A main focus of Post 16 is to ensure that students are fully prepared for transition from school and as such various off-site venues are accessed in order to develop transferrable skills, increase confidence and promote independence.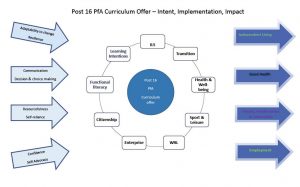 Above is the range of subjects taught in Post 16. As the cohort is very diverse the offer to each class varies. Some or all of the subjects are offered depending on the year group, their ability, along with the availability of off-site venues.
Below is a 'typical' timetable for a student in the Post 16 department.
Group
Lesson 1
Lesson 2
Lunch time
Lesson 3
Lesson 4
 
Mon
 Tutor

Individual learning intentions

Independent Living Skill
Work Related Learning

Individual learning intentions

Tues
Individual learning intentions
Functional numeracy / Functional literacy / 

Health & Well-being

Individual learning intentions

Wed
Individual learning intentions

Sport & Leisure

Enterprise

Individual learning intentions
Thurs
Individual learning intentions

Personal, Social & Health Education / Citizenship

'Reflection' Assembly

Current Affairs

Individual learning intentions
Fri
Individual learning intentions

Transition

Functional numeracy / Functional literacy / IEP work

Individual learning intentions
Access to offsite provision provides opportunities for students to apply their developing transferrable skills in other environments. Opportunities include accessing The Sheffield Colleges, along with a variety of Social Care provisions i.e. Burton Street Foundation, Newfields Adult Resource Centre etc. Additionally, students access a variety of local venues and places of interest mainly within the Sheffield area. This part of the curriculum has had to be paused due to current restrictions, and will resume as soon as possible.
Talbot School works hard to help provide a smooth transition for students from school to future appropriate adult placements. Where possible 'taster' and 'targeted' sessions are arranged. Regular meetings are held with parents/carers and associated professionals in order to plan progression routes. The school holds an annual 'Futures Market' to which numerous providers attend. This allows parents/carers to gather information re post school opportunities and provision.
Post 16 Enterprise Day – 23rd October 2019
On 23rd October Post 16 students delivered a Halloween themed Enterprise project for their Key stage 4 friends. A fantastic afternoon was had by all with students enjoying a wide range of activities such as; Halloween themed games, wrapping each other up as mummies, a sensory ghost train, 'zombie head hoopla', creepy feely activities and alien and zombie themed target activities.
We also had a spooky shop where students sold a range of items they had prepared during enterprise sessions.
Thankyou to all the students, parents and staff who made the event such a terrifyingly brilliant success and thankyou for all the hard work that went into setting up the event.