Talbot School term dates and holidays for the new academic year are detailed in this section as well as parents evening dates.
If you would like to confirm any other dates which are not listed here please contact us.
In order to welcome our students back to school safely we will have a staggered start this year.
Years 7, 9, 11 and 12 and those students attending The Bridge return to school on 7th September.
All students return to school on 8th September
School term dates 2020-2021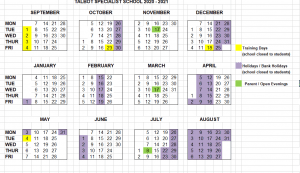 School term dates 2021-2022