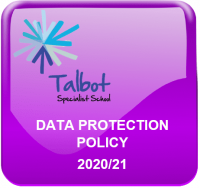 Privacy Policy
This Policy applies as between you, the User of this Web Site and Talbot Specialist School, registered address Lees Hall Road, Sheffield, S8 9JP the owner and provider of this Web Site. This Policy applies to our use of any and all Data collected by us in relation to your use of the Web Site and any Services or Systems therein.
In compliance with UK and European General Data Protection Regulations (GDPR), this privacy policy explains what personal information we collect from you when you visit our website or are a recipient of our services.
Talbot Specialist School is committed to processing personal information about its customers in ways that comply with its legal and regulatory obligations, and to being clear with customers about what it does with their personal information.
We respect and value the privacy of everyone who enquires or uses our services and will only collect and use information in ways that are useful to you and in a manner consistent with your rights and our obligations under the law.
What is this Privacy Policy for?
The policy sets out how we use personal data.
Talbot Specialist School will not share your data with any other third party. We will, from time to time, contact you about our service and any changes or additions to your events.
Data collection
Talbot Specialist School may collect personal information which we receive when you:
use our website
contact us or
purchase or are a recipient of our services.
We may collect the following types of information:
your name, address, email address, telephone number(s) and other contact details
information required to provide you with a service, and details of our services that you have used
your company's name, your position in the company; the company's address, company's email address and telephone number
your payment information such as credit or debit card details and bank account details.
Appropriate firewall technology is used within to prevent unauthorised access. All personal data is backed up daily, and archives are stored off-site in a secure location.
We are committed to keeping your information up to date as far as is reasonably possible. However, if you believe that we have made an error, then please contact us as we have outlined below and we will use reasonable endeavours to correct.
For marketing purposes
We may contact you for marketing purposes if you have consented to receive marketing information, if you have made an enquiry regarding Talbot Specialist School services, or if it has been identified that Talbot Specialist School services may be of legitimate interest to you. We do not use your data in a way you would find intrusive or which could cause harm, and you have the right to stop us from contacting you for marketing purposes at any time.
We use your information to:
to provide you with information about the products/services we offer
to assist you in answering any questions or queries you may have submitted
to send newsletters where you have asked for them
Keeping your information safe and secure
Talbot Specialist School is committed to keeping users personal information secure to protect it from being inappropriately or accidentally accessed, used, shared or destroyed, and against it being lost.
Subject Access Requests
Under the GDPR, individuals can ask for confirmation that their data is being processed and access it. Once an individual's identity is verified, Talbot Specialist School will endeavour to respond without delay, and within the 40 days specified by law.
Anyone who has data held by an organisation is a 'data subject,' and will have more rights regarding how their data is held, used and disposed of.
The right to be informed – Data subjects must be told what personal data is being held, what it is being used for and why.
The right of access – Data subjects are allowed to see what data of theirs is being processed upon request.  The need for care and professionalism in all record keeping whether digital or manual is vital as the subject could ask to see everything that is being held on them at any time.
The right of rectification – If personal data held by organisations is incorrect; they have an obligation to change it.
The right to erasure – Data subjects can demand that personal data held about them is erased where there is no compelling reason for its continued processing.
The right to data portability – At the data subject's request their data must be moved to another processor.
The right to object – If a data subject does not like the way their data is being used they can request that the use is stopped, and that must happen unless there is an overriding legitimate reason to continue using it.
Rights in relation to automated decision-making or profiling – Data subjects can demand that a human review any decision made by software alone.
Third party access
Access to your personal information is only allowed when required by law, we do not, and will never, sell or share your personal information with third parties.
Our Service Providers
This includes external third-party service providers, such as accountants, auditors, experts, lawyers and other outside professional advisors; IT systems, support and hosting service providers; printing, advertising, marketing outsourced service providers that assist us in carrying out business activities. All our systems are located within the UK or EEA
How long do we keep personal information?
We will only retain personal information for as long as it needs it to carry out a particular purpose or meet a particular obligation.
Marketing
Talbot Specialist School will ask users to "opt-in" for marketing communications. This means you'll have the choice as to whether you want to receive these messages.
You will be able to unsubscribe from email notifications from us by responding to the email, requesting to opt out.
Use of Website Cookies
This website uses cookies to improve your experience when visiting the website.  Cookies are small files saved to your device that track, save and store information about your interactions with and usage of the website.  This allows the website, through its server to provide you with a tailored experience within this website.
If you don't want cookies to be stored on your device, you should make the necessary changes to your device or the relevant browsers or apps.
Links to other websites
Our website may contain links to other websites of interest. However, you should note that we do not have any control over these other websites. Once you have used any of these links to leave our site, therefore, we cannot be responsible for the protection and privacy of any information which you provide whilst visiting these sites and such sites are not governed by this privacy statement.
Social Media Platforms
We participate with social media platforms subject to their privacy policies and terms.
You should use social media platforms wisely and communicate/engage upon them with due care and caution in regard to your own personal data.  We will not request personal data through social media platforms.  If you want to discuss something of a sensitive nature, then please use a more appropriate channel such as a telephone call or email.
This website may use social sharing buttons which help share web content directly from web pages to social media platforms.  You should use these buttons with care.  Note that the social media platform may track and save your request to share a web page through your social media platform account.
Shortened Links in Social Media
We share web links on social media pages. Sometimes, these links can be shortened. These shortened URLs or even the displayed URL can be hacked or otherwise changed against our wishes to divert you to another site.  We are not responsible if you are redirected to the incorrect site.
Changes to our Privacy Policy:
We keep our privacy policy under regular review and we will place any updates on this web page. This privacy policy was last updated in May 2018.
How to contact us:
Please make an enquiry through our page if you have any questions about our privacy policy or about information we hold about you.